Recently, Candace Owens spoke about her observations regarding what she describes as the disappearance of Black Lives Matter following Biden's election victory. Her broader point is not that the organization ceased to exist but that they have gone dormant, and their relevance and political strength come only during election cycles. Here she is discussing this point (0:01-4:54).
BLM was never about the plight of Black Americans or improving their lives – it is, and always has been, about division and keeping Black Americans as victims. It is a crude but effective political scheme used to consolidate power for the left under false premises. The founders of this movement are avowed Marxists and reflect the direction of the present-day Democrat party.
The "Summer of Rage" Floyd-related BLM riots came at a tremendous cost to all Americans, over two billion and still counting. The lives injured and lost – priceless. But consider the negative effects the movement had on Black Americans:
#1 Dramatic violent crime rates in their communities and increased deaths.
CNN: "Major American cities saw a 33% increase in homicides last year ."
"Black communities are haunted with crime, much of it gun violence. "Black communities are haunted with crime, much of it gun violence. According to the Kaiser Family Foundation who draws data from the CDC, black people have the highest amount of deaths due to firearms per 100,000 people. For every 100,000 people, there are 23.6 deaths due to firearms – more than twice than that of whites. This is not to point fingers or blame people, rather this should be noted to grieve with the black families within urban areas.
As of this June 2021 The Chicago Police Department reported 336 homicides in 2021 – 33% more than 2019. 327 homicides would occur in Detroit in 2020, a 19% increase. The police department would also report a 53% increase in non-fatal shootings. When looking at the chart below, gun violence doesn't appear to be slowing down, either. Missouri's gun violence rate continues to climb. Black Lives Matter would ultimately shift the public attention and legislation prospects away from the issue. Moreover, they would influence a culture that is increasing crime. Thus, not only does BLM fail to bring attention to where it should be, which is crime and violence in urban communities, they are complicit in the violence itself."
"he FBI reported late last month that homicides in the U.S. rose by 29.4 percent in 2020 from 2019, the largest single-year increase since the federal government began compiling national crime statistics in the 1960s. That means there were a staggering 4,901 more murder victims than the previous year. Beyond homicide, assaults increased by 12 percent in 2020 compared to 2019, and violent crime overall jumped by 5.6 percent — the first increase in violent crime in four years.
Democrats claimed these policies were necessary to address systemic racism in law enforcement and the criminal justice system more broadly. But the tragic irony is that minorities were hurt more than any other group by the resulting violence. According to the FBI's new data, minority communities suffered disproportionately from last year's spike in crime. More often than not, it was minority communities and businesses in inner cities who bore the brunt of the attacks."

Tap Here to Order
# 2. Unemployment and Job Opportunities:
BLM was prominently highlighted during the DNC convention and leaders of the movement endorsed and campaigned for Joe Biden. Biden's policies have resulted in:
BLS: Prior to Covid in November 2018 the African Americans unemployment rate at (5.4 percent), and almost a year into Biden's president in  October 2021 the rate is( 7.9. percent).
Biden's open border policy has flooded the labor market with cheap labor forcing Black Americans to compete for low-skilled jobs and government subsidies.
US Census: America's poverty rate plummeted 10 % over Trump's years and median income rose each year." The Black poverty rate fell below 20 percent for the first time in history." In Biden's first year the median income has fallen and the poverty rate increased. More Black Americans are on food stamps and subsidies in 2021 than in the previous 4 years.
#3. Home Ownership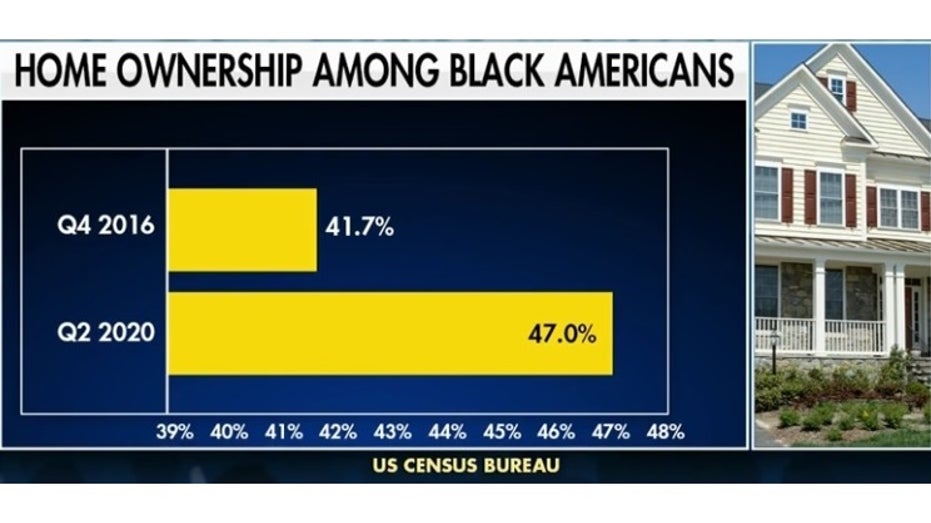 Minority homeownership fell under Biden's first year.
#4. Education:
Public school education has continued to fail students year over year to date and disproportionately per population stat affects minority students. School Choice was the centerpiece of Trump's education platform. The Trump administration had extended HBCU funding to historical amounts only to have The Biden Administration decrease that funding.
So Candace is correct when she points out the BLM movement is not focused on helping black lives. So what is its focus?
BLM's website's "What We Believe" section states: "We disrupt the Western-prescribed nuclear family structure requirement by supporting each other as extended families and 'villages' that collectively care for one another, especially our children, to the degree that mothers, parents, and children are comfortable." So, BLM supports the most self-destructive facet of Black culture, fatherless families (73%), which guarantees much higher rates of school dropout, crime, unemployment, incarceration and suicide.
The organization gains influence over followers by promoting falsehoods or premises to promote their agenda such as:
The killers of Trayvon Martin and Michael Brown were not acting legally in self-defense. The 'Hands up don't shoot" chant is a staple at BLM Protests. 

Reporting

 false stats

 on law enforcement hunting and murdering Black men.

Ignoring black and black crime.

Claiming that Floyd's death was a racial crime.
For all this, the largest sector of visible protesters in the BLM events are white liberals. And they have managed to shake down Corporate America to the tune of $90 million!
"Grief-stricken mothers who have accused Black Lives Matter of profiting from the deaths of their sons condemned the group's embattled co-founder Patrisse Cullors after she announced she was stepping down from the movement."
What is really behind " The Summer of Rage" and every election year appearances by BLM to destabilize the political/cultural climate?
I would submit it is a grand money-laundering scheme by the DNC and a Marxist PSYOP to consolidate power.
The Right Wire Report did a story on BLM fundraising and ACT Blue back before Biden was elected( 2019) Here is that article reprinted:
In the vein that money is speech, one needs to have a discussion on campaign financing. Who and where is campaign financing coming from in our elections. Less than a year ago, there was a narrative that the Democratic National Committee (DNC) was about to go bankrupt. Failed presidential candidate Hillary Clinton decried the DNC as a "bankrupt" organization and warned that Democrats are going to be "outgunned, outspent, and out-lied" in the upcoming election." What a difference a year makes.
Suddenly the headlines read:
On cue, the follow-up Trump takedown headlines read:
Get that, everybody? Voters love Biden/Harris so much and hate Trump/Pence to such a degree that they are pouring donations into Biden's campaign at a historical record level. Yes, higher numbers than Obama's 2008 record even! Oh wait, it gets better, Hillary Clinton in August 2016 hauled $143 million to Joe's $365 million in the same month!
Odd, isn't it? The Biden campaign was limping along with fundraising amounts – $8.9 million in January,$18 million in February, then started to get into a groove in March by raising $46.7 million. By April, the campaign was steady, with $43.7 million in donations. May brought a huge spike in funds raised with a reported doubling hauling in $80.8 million. It was almost doubling again in June with $141 million and in July $141 million. Biden more than doubles again in August with the astounding number,$365 million raised!
A review of Trump's campaign numbers are as follows: January – $60 million, Feb – $86 million, March – $63 million, April – $61 million, May – $74 Million, June – $131 million, July – $165 million, and in August – the official numbers are not out yet, but the RNC raised $74 million over the four-day convention alone. As of August, 21 – NPR reported that Trump had raised $1.21 Billion to Biden's $ 699 million, see here.
There can be only two explanations for the explosion of exceeding fundraising cash amounts for Biden since May. Biden did not announce his running mate until August 11th, so explanation one would be that the popularity and voter enthusiasm for candidate Joe Biden passes that of all other Democrat nominees, including Obama. Care to lay odds on explanation one being a possibility? Yea, Right Wire Report, passes on those odds too. Biden got no bump in polling coming out of the Democrat Party Convention and has suffered from an enthusiasm gap in polling.
Have you guessed explanation two yet? Par for the leftist progressives cynical playbook, explanation two, of course, is something is rotten in Denmark, and all is not what it seems. This is the Right Wire Report's hypothesis on why Biden's campaign is brimming with historic levels of cash:
Suddenly the Biden campaign is awash with cash. Are the BLM protest/riots feeding this newfound Democrats campaign money? If so, why would they want to stop them?
Just The News, Daniel Payne, wrote:
"The Democratic fundraising group appears to be pulling down significantly larger amounts of donations this spring than it has done in previous years. On its recap for April 2020, it lists over 4.4 million total contributions for that month — three times as many as listed in April 2018 — while the total dollar amount it processed in April, around $141,000,000, was up from just under $56 million the same month in 2018."
"It is not clear how much of that money was donated specifically to Black Lives Matter. Neither ActBlue nor Black Lives Matter on their websites lists the amount of donations the latter group receives. The April numbers do not reflect the recent surge in donations to Black Lives Matter, which only began skyrocketing in late May after Floyd's death in Minneapolis." 
One thing is for certain there is no limit to how much one can give to BLM as there when you give directly to a political campaign.
Wow this video is really important and every person needs to watch and share it. Black Lives Matter donations go directly to a superpac called "ACT BLUE" that has given hundreds of millions to Democrats running for President.
How is this legal? #BLM is LITERALLY a shell company. https://t.co/V57IUCThVo

— Candace Owens (@RealCandaceO) June 11, 2020
Donors giving to Black Lives Matter are not aware they are donating to the Democrat Party or Joe Biden. It appears highly plausible that the left and media allies have set fire to a narrative they created to then enable the racial turmoil which has become violent and holding America hostage at present. It appears likely that BLM, largely backed by billionaire left activist George Soros, is using the "charity" to siphon off money for the Democrat party.
Democrats using Americans, especially black Americans, as pawns for political expediency and cash cows?
That is exactly the Democrat party we all experience every day now-Cynical, deceitful, and immoral. Bill Barr and the FEC checkmate on the horizon?
We should all hope so.
Update added 9/13/20
Fox News: "data shows half of 2019 donations to ActBlue came from untraceable, unemployed, donors."
"But according to a new report from the Associated Press, the $90 million donated to the political group in 2020 isn't reaching local activists. BLM has been around since 2014 and has been backed by big name celebrities and the Democrat Party."
Red State: "Donations to Black Lives Matter Goes to ActBlue The Activist Arm Of the Democrat Party."
Get ready for the return of BLM protesters ripping it all up around 2022 Midterms- just in time to backfill the DNC coffers.
 RWR original article syndication source.